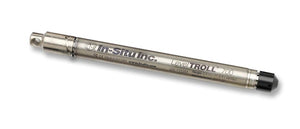 White Oak Environmental & Safety, LLC
In-Situ Level TROLL 700 Data Logger Rental
Regular price
$75.00
Unit price
per
In-Situ Level TROLL 700 Data Logger
Designed specifically for aquifer characterization, the Level TROLL 700, with titanium construction, 4 MB memory that holds 260,000 data points, higher data resolution, and advanced logging modes, is the professional's choice for accurate and reliable results.The Level TROLL 700 provides continuous monitoring of water level, water pressure, and temperature. Available in pressure ranges up to 500 psig for vented configurations and 1000 psia for non-vented configurations.
This premier data logger is ideal for specialized applications. 3D factory calibration and our unique anti-drift system ensure accuracy. Low-maintenance deployment saves on time in the field and cost. And with our shared ecosystem, you can easily integrate instrumentation, in-well telemetry, and HydroVu Data Services.
BE EFFECTIVE
• Increase productivity: Reduce training and installation time with In-Situ's intuitive software platform and integrated components. Patented twist-lock connectors, included on Level TROLL Data Loggers and RuggedCable® Systems, ensure error-free deployments.
• Streamline data management: Use the VuSitu Mobile App to consolidate all site information on your smartphone, and tag data with site photos and GPS coordinates. Simply connect the instrument to a Wireless TROLL Com or power pack, launch the mobile app, and start reading results. Simplify instrument setup, reduce errors and get the most out of your data with Log Setup Assistant and Panoramic Live Data. Log data to your smartphone and download results in a standard Universal Data File format
BE RELIABLE
• Deploy in all environments: Install loggers in fresh water, saltwater, and contaminated waters. Solid titanium and sealed construction outperforms and outlasts specially coated data loggers.
• Log accurate data: Get optimal accuracy under all operating conditions. Sensors undergo a 3D, NIST-traceable factory calibration across the full pressure and temperature range. For applications requiring the highest levels of accuracy, use a vented (gauged) system.
• Get long-lasting operation: Reduce trips to the field with lowpower loggers that typically operate for 10 year
---