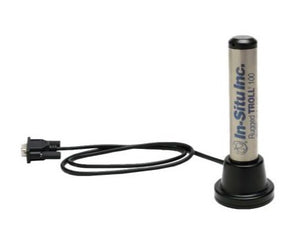 White Oak Environmental & Safety, LLC
In-Situ Rugged TROLL 100 Data Logger Rental
Regular price
$40.00
Unit price
per
In-Situ Rugged TROLL 100 Data Logger
Rugged and affordable, this non-vented (absolute) water level logger featuring 3D factory calibration and enhanced reliability will operate for years maintenance free. Easily program and download data with the Rugged TROLL Docking Station or Wireless Rugged TROLL Com and VuSitu App (sold separately). Setup, view and download logs directly from your mobile device using a Wireless Rugged TROLL Com and the VuSitu app.
Available in pressure ranges up to 250 ft (76 m), the Rugged TROLL 100 is 2.62 cm (1.03 in) in diameter and comes with 2MB of memory, with 120,000 data sets and 360,000 data points. Use a suspension wire and the backshell hanger (included) to deploy the equipment.
AFFORDABLE TITANIUM DATA LOGGERS
• Get reliable data at a budget-friendly price.
• Use in harsh environments. Solid titanium construction offers chemical- and corrosion-resistance and outlasts specially-coated data loggers.
• Select the appropriate logging mode for your project: Linear, Fast Linear, or Event.
FLEXIBLE DEPLOYMENT OPTIONS
• Deploy zero-maintenance loggers in flood-prone areas, highhumidity environments, and remote locations.
• Choose the cable length and termination type that works best for your project.
• Use suspension wire and backshell hanger for applications requiring minimal instrument access.
TOTAL FIELD SUPPORT
• Receive 24/7 technical support and online resources.
• Order data loggers and accessories directly from our website.
• Get guaranteed 7-day service for maintenance.
SIMPLIFIED SETUP AND DATA RETRIEVAL
• The mobile app guides you through instrument and log setup, and data management. Log data to your smartphone and download results in a Universal Data File.
• Save time and reduce errors with the intuitive Win-Situ Software platform. Quickly program loggers, download data, graph results, and more.
• Simplify instrument setup, reduce errors and improve data utilization with Log Setup Assistant and Panoramic Live Data.
• Connect a cabled logger to a telemetry system, radio, controller, or a SCADA/PLC system via Modbus/RS485 or SDI-12 (with the Rugged TROLL 200 and Rugged BaroTROLL).
• Integrate with VuLink Telemetry and HydroVu™ Data Services for real-time feedback on your remote monitoring sites.
EXTENDED SHELF LIFE
• The battery indicator on Rugged TROLL 100 and 200 instruments is controlled by an algorithm so that it will not count down until your unit is deployed and has taken at least 1,000 readings or is more than 9 months past its manufacturing date.
---