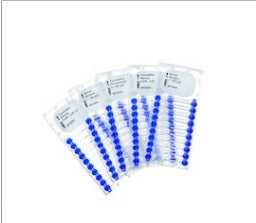 White Oak Environmental & Safety, LLC
Mercury, 0.005 - 0.25 mg/m³ (8610350)
Regular price
$174.00
Unit price
per
Mercury, 0.005 - 0.25 mg/m³ Part # 8610350
 Measuring Range:
0.005 to 0.25 mg/m³
Typical Measuring Time:
approx. 240 to 1200 s
Accuracy:
± 25 % (under calibration conditions)
Ambient Conditions:
Temperature:
0 to 40 °C
Temperature correction:
none
Humidity:
1 to 40 mg/L
Humidity correction:
none
Cross Sensitivity:
No influence at 0.025 mg/m³ mercury by:
50 ppm benzene
200 ppm toluene
200 ppm xylol, mix. of isomeric 1 Vol.% methane
Hydrogen Sulphide leads to considerable plus errors, therefore mercury measurements in the presence of hydrogen Sulphide are not possible.
Hose and probe measurement
The following flushing time recommendations for hose and probe measurements are marked with a brand-new, dry and clean hose and probes.
Hose                                           Length (meter)                    Flashing time (min) 
FKM Hose                                         5-20                                          3
FKM hose                                         45                                              5
PTFE-lined PVC hose                        3-15                                          3
Bar probe 90 (83 16 532)                                                                   1
Telescopic probe ES 150 (83 16 533)                                                 1
Probe Set GP600 (83 28 667)                                                             3
---