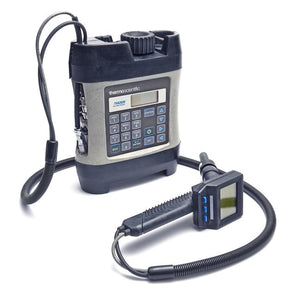 White Oak Environmental & Safety, LLC
Thermo TVA2020 FID w/ Bluetooth, GPS & Enhanced Probe Rental
Regular price
$150.00
Unit price
per
Thermo TVA2020 FID w/ Bluetooth, GPS & Enhanced Probe
Quickly detect fugitive emissions of organic and inorganic compounds for Method 21 compliance, LDAR applications and site remediation with this lightweight, intrinsically safe portable gas leak detector. Key features include reduced response times, increased user-serviceability, and Bluetooth™ connectivity.
The Technology You Expect
Detect gas leaks from refineries and chemical plants to comply with U.S. EPA Method 21 and LDAR programs. The TVA2020 Toxic Vapor Analyzer is equipped with an FID to measure organic compounds with high sensitivity. The FID technology allows for a wide dynamic and linear range that produces stable and repeatable responses. 
After performing a primary calibration (calibration kit available), the TVA2020 Analyzer can be customized by activating internal logging parameters, uploading a monitoring route, establishing a Bluetooth connection, setting alarm levels, and activating response factors.
Certifications
USA: Class I, Division 1, Groups A,B,C,D T3
Canada: Class I, Zone 1, Ex d ib IIC T3 Gb
ATEX: CE0359 Ex II 2 G Ex d ib IIC T3 Gb
IECEx: Ex d ib IIC T3 Gb
Specifications
Accuracy
FID - ±10% of reading or ±1.0 ppm, whichever is greater, from 1.0 to 10,000 ppm.
Repeatability
FID – ±2% at 500 ppm of methane
Linear range
FID – 1.0 to 50,000 ppm of methane
Response time 
Less than 3.5 seconds for 90% of final value, using 10,000 ppm of methane
Sample flow rate
1 liter/minute, nominal, at sample probe inlet
Battery
The battery operating time is 10 hours minimum at 0 °C (32 °F). Fully charged in less than 10 hours.
Hydrogen supply operating time
10 hours of continuous operation, starting from a cylinder charged up to 15.3 MPa (2200 psi)
Physical dimensions
11.5" × 9" × 4" (29.2 cm × 22.9 cm × 10.2 cm)
Weight 
9.2 lbs
Minimum detectable limit
The minimum detectable level is defined as seven times the standard deviation of peak-to-peak noise. FID Instrument - 0.5 ppm of methane
Lamp life
FID Instrument - Greater than 5,000 hours
Data storage interval
Auto mode – 1 per second to 1 per 999 minutes, user selectable
Relative humidity range
15 – 95%
Rental Includes - TVA2020 FID only w/ Bluetooth and GPS built-in, Enhanced probe, case, hydrogen cylinder, refill assembly, software, USB cable and manual. 
---