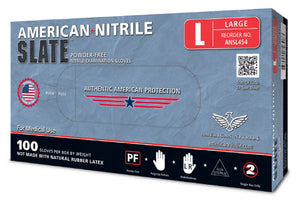 American Nitrile
American Nitrile Research/Lab Gloves (IN STOCK)
Regular price
$15.00
Unit price
per
The American Nitrile Slate glove is the perfect combination of advanced manufacturing and proprietary formulation that delivers optimal comfort with superior barrier protection. Slate gloves are designed for longer wear times and can be used in research and healthcare settings.
Meets US FDA device license regulations, complies with ASTM standard, and cleared for use with chemotherapy drugs in accordance with ASTM D6978.
US-Based production and delivery ensures quality and instills confidence in the safety and cleanliness of our products.
Exceptional grip for secure manipulation of tools in dry/ wet conditions yet versatile enough to interact with touchscreen devices.
Our material and cleaning process eliminate the risk of Type I latex allergies and Type IV chemical allergies.
Smooth inner surface for easy donning and low modulus for a soft, flexible feel.
1.5 AQL-Ultra low probability of pin holes.
---