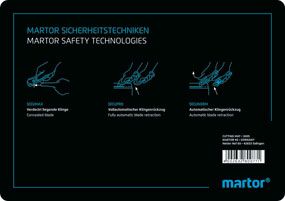 White Oak Environmental & Safety, LLC
MARTOR CUTTING MAT 148 X 210 MM
Regular price
$7.87
Sale price
$8.28
Unit price
per
CUTTING MAT 148 X 210 MM
NO: 3005.06
Cutting mat with self-healing capabilities.
Size 148 X 210 mm
CUTTING MAT WITH SELF-HEALING CAPABILITIES.
SIZE 148 X 210 MM.
Do you want to cut without damaging surfaces? No problem. For cutting paper, card, film etc. it is best to use a high-quality MARTOR cutting mat. The mat is made of three layers: a solid core and two resistant outer surfaces. It therefore easily tolerates even high-pressure cutting. The cutting mat always remains smooth and enables you to continue working cleanly. Also helpful are the descriptions of MARTOR safety technology printed on the mats.
- Self-healing
- With safety technology
- Large selection of sizes

Dimensions: 8.27" L x 5.83" W x 0.12" H
Weight: 4.23 oz
---