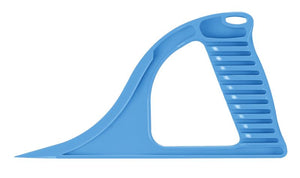 White Oak Environmental & Safety, LLC
MARTOR BIG RIPPER
Regular price
$11.99
Sale price
$12.62
Unit price
per
BIG RIPPER
NO: 15.08
-Bladeless cutter for maximum safety
-Ergonomically friendly grip
-Color may vary
The Big Ripper is the ultimate in safety because it protects the operator and minimizes waste without using a blade at all. It cuts single to minimal layers of material still wound tightly on rolls. This version works best for medium to heavier materials.
-Bladeless cutter for maximum safety
-Ergonomically friendly grip
Dimensions:
L 9.8" x H 5.2" x W .98"
Weight: 6.8 ounces
(Color may vary from that pictured.)
Note: This item is manufactured by The Spoilage Cutter Co., Inc. not Martor KG
---