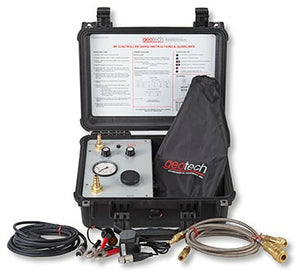 Geotech
Geotech High Pressure Bladder Pump Controller 300 PSI Rental
Regular price
$90.00
Unit price
per
Geotech Bladder Pump Controller 300 PSI
The simple-to-use Bladder Pump (BP) Controller (300 PSI) utilizes accurate microprocessor-controlled fill/discharge timers to sustain true low-flow sampling techniques. Controller is equipped with high-pressure valves and fine resolution regulators that can perform in deep-well applications. The Geotech BP Controller universally connects to any bladder pump system using simple quick-connect adapters. The BP 300 controller can also operate two bladder pumps simultaneously with an optional airline splitter.
FEATURES
• Designed for durable, trouble-free operation
• High pressure operation for greater depths
• Multiple power input options
• Microprocessor controlled timers for accuracy
• Internal over-pressure protection
• Battery over-draw protection
• Water Level Meter compatibility for well draw-down
• Intuitive user controls and status indicator
• Accessories cavity for easy portability
• Included: Air-In and Air-Out Hoses, AC Power Supply,  DC Power Cord and Clip Adapter, Geotech Drawstring Bag, Carry Case
• Optional 2-pump airline splitter
SPECIFICATIONS                  300 PSI                                       

Performance     
Operating Depth       0-690 feet (210 m)                                
Input Air Pressure       Up to 300 psi (20.5 bar)                    
FILL Timer Range       5 - 120 seconds                                             
DISCHARGE Timer Range       5 - 120 seconds                                   
Timer Resolution       2 seconds                                                                   
Timer Accuracy       ±2 seconds                                                               
12V 8Ah Battery Life 1,300 cycles @ 30 sec. timers                             
Internal Battery/Life    External only                                  
Environmental  
Operating Temperature     32°-158°F (0°-70°C)                        
Storage Temperature       -40°-185°F (-20°-85°C)               
Physical  
Enclosure    7" x 16" x 12" (18 x 41 x 30.5 cm)       
Weight       15 lbs. (6.8 kg)                                                   
Enclosure Material       Structural resin                                 
Input Power  
External Battery       10.5-13.8V DC                                                          
AC                          90-240V AC*                                                                
Line Frequency       45-65 Hz                                                  
Watts                      15 Watts                                                  
Rental Unit Includes - Controller, inlet hose, outlet hose, AC power adapter, cigarette lighter adapter, battery clips and manual.
---