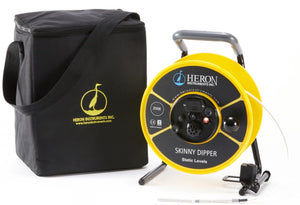 White Oak Environmental & Safety, LLC
Heron Skinny Dipper Water Level Meter Rental
Regular price
$30.00
Unit price
per
300 ft. Heron Skinny Dipper Water Level Meter
Heron brand water level meters are designed for well drillers, consultants and other groundwater professionals who need to measure the most accurate static and drawdown water levels in wells, boreholes, remediation, etc.
Heron Skinny Dipper Water Level Meter Description:
The  Heron Skinny Dipper Water Level Meter narrow diameter water level meter has the thinnest tape and probe in our whole product family. The skinny dipper is a premium water level meter designed for hydrogeologists and well drillers to measure water down narrow openings of wells and piezometers.
This water level meter is ideal for measuring static water levels in narrow wells, boreholes, tubes and piezometers. The slim line tape and ¼" probe enable users to take readings while the pump is still in the well, whereas wider tapes may get tangled. The premium padded carry case comes included to protect your precision instrument from the elements.
Included with the Heron Skinny Dipper Water Level Meter:
• 1/4" (6.4mm) Polyethylene Tape
• 1/4" (64mm) Water Level Probe w/holder
• Electronic Panel with audio and visual signals (Fully Encapsulated to IP65)
• Sensitivity dial to tune out cascading water
• Vinyl ergonomic handle
• 9V Battery
• Padded Storage/Carrying Case
---