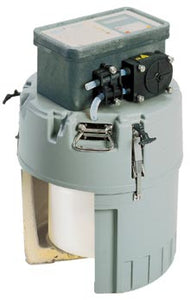 ISCO
ISCO 3710 Composite Sampler Rental
Regular price
$100.00
Unit price
per
ISCO 3710 Composite Sampler
The 3710 Sampler combines simple operation and high volume capacity for single-bottle sampling. It collects composite samples - based on time or flow intervals - in a 2.5 gallon glass or polyethylene bottle, or a 4 gallon polyethylene bottle. Up to 24 sampling stop and resume times can be preset for unattended, automatic sampling. 

Setup and programming is​ a snap. Simply choose the o​ptions you need from the selections displayed on the two-line, backlit LCD. 

With a thermal resistance of R-11, you can be assured of maximum effectiveness for cooling samples. A thick, one-inch foam insulated base keeps the unit more rigid, and less affected by ambient temperatures.
Rental unit includes - sampler, strainer, tubing coupler, silicone preloaded in the pump head, Ni-Cd battery, charger & manual. Downhole tubing and sample bottle available separately. 
Standard Features
Fail-safe float shutoff prevents overfilling of sample bottle

Exclusive LD90 Liquid Presence Detector and pump revolution counting system ensure accurate, repeatable sample volumes.

Quick, easy setup for:


Uniform time intervals

Non-uniform time intervals

Flow-paced sampling with or without time delay


Thick foam insulation (R-11) and 20-lb ice capacity (with 4-gallon bottle) to preserve samples.

3710 Controller is housed in a NEMA 4X and 6 (IP67) environmentally sealed enclosure, and is fully interchangeable between portable and refrigerated samplers.
ISCO 3710 Applications
Wastewater effluent

CSO monitoring

Permit compliance

Pretreatment compliance
Specifications
Size (Diam x Ht):
19 x 28 inches (49 x 73 cm)
Weight:
Dry, less battery - 32 lbs (14.5 kg)
Material:
Fiberglass-reinforced plastic with UV-resistant gel coat
Power required:
12 VDC (Supplied by battery or AC power converter.)

Pump


Intake purge:
Adjustable air purge before and after each sample.
Tubing life indicator:
Provides a warning to change pump tubing.
Pump tubing life:
Recommended 500,000 pump counts
Intake suction tubing:
Vinyl or Teflon®; 3/8 inch (1 cm) or 1/4 inch (0.6cm) ID; 3 to 99 feet (1 to 30 m) Length
Maximum lift:
26 ft. (7.9 m)
Repeatability:
±10 ml typical
Typical line velocity @ Head height:
2.5 ft./s @ 3 ft; 2.5 ft./s @ 10 ft; 1.9 ft./s @ 15 ft. (0.76 m/s @ 0.9 m; 0.76 m/s @ 3.1 m; 0.58 m/s @ 4.6 m)
Liquid presence detector:
Non-wetted, non-conductive sensor detects when liquid sample reaches the pump to automatically compensate for changes in head heights.

Controller


Weight:
11 lbs (5 kg)
Size (HxWxD):
10 x 12.5 x 10 inches (25 x 32 x 25 cm)
Operational temperature:
32° to 120°F (0° to 49°C)
Enclosure rating:
NEMA 4X, 6 IP67
Program memory:
Non-volatile ROM
Flow meter signal input:
5 to 15 volt DC pulse or 25 millisecond isolated contact closure.
Number of Samples:
Up to 200 composite samples. (Fail-safe float shutoff.)
Interface port:
8 pin connector; data output at 2400 baud in ASCII. RS-232 format with handshake.
Clock accuracy:
1 minute per month, typical, for real time clock

Software


Sample frequency:
1 minute to 99 hours 59 minutes, in 1 minute increments. Non-uniform times in minutes or clock times 1 to 9,999 flow pulses
Sample pacing:
Uniform time, non-uniform time, flow. Flow pacing is controlled by external flowmeter pulses.
Sample volumes:
Programmable from 10 to 9,990 ml in 1 ml increments
Sample retries:
If no sample is detected, up to 3 attempts; user selectable
Rinse cycles:
Automatic rinsing of suction line up to 3 rinses for each sample collection
Program storage:
3 sampling programs
Sampling stop/resume:
Up to 24 real time/date sample stop/resume commands.
Controller diagnostics:
Tests for RAM, ROM, pump display, and distributor
---