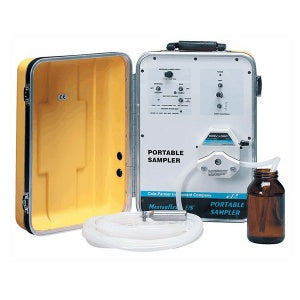 Masterflex
Masterflex® E/S TM Portable Sampler Pump Rental
Regular price
$45.00
Unit price
per
The Masterflex® E/STM portable sampler, part of our environmental sampling series from Masterflex®, is designed for the ultimate in portability and versatility. Run up to four hours on the self-contained 12 VDC rechargeable battery, or indefinitely from any AC or 12 VDC power supply. Charge the internal battery from an AC power supply or a DC voltage source of lower voltaic potential than the battery itself. The variable-speed drive has a top speed of 400 rpm, allowing you to adjust the flow rate to the needs of your application.
Pump is encased in a high-visibility yellow housing for easy recognition and recovery in the field. Unit measures 16"H x 11-1/3"W x 10-1/2"D.
What's included: instruction manual and AC adapter with 12-ft cable. Order automotive power adapter separately at right to run off of a DC power supply.
Flow Range
Masterflex® L/S 25 precision tubing: 125 to 650 mL/min
Masterflex® L/S 15 high-performance tubing: 125 to 650 mL/min
Masterflex® L/S 24 high-performance tubing: 210 to 1100 mL/min
Features
Features a single-turn potentiometer for speed control, ON indicator, and three-position power/reversing switch
Reversible flow and prime/purge function
Uses Masterflex® L/S® standard, Quick Load®, PTFE tubing, or Easy-Load® pump heads
Floats up to 30 minutes if dropped in water when case is closed and latched!IP54-rated control panel protects against inclement weather and splashing water
Rechargeable battery—ideal for field applications
---