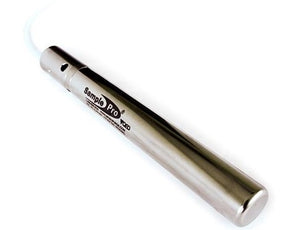 White Oak Environmental & Safety, LLC
QED Sample Pro 0.75" Bladder Pump
Regular price
$50.00
Unit price
per
QED Sample Pro 0.75" Bladder Pump
The Sample Pro 3/4" Portable MicroPurge Pump, is the first pump designed specifically to meet the practical needs of sampling small diameter wells: easy to adjust to low-flow purging rates and easy to decontaminate between sampling points. Decon is made easier by the pump having fewer parts, disassembly without tools, and quick-change, disposable bladders. The Portable MicroPurge Pump is compact and can pump from a 5-gallon bucket. The pump is operated by compressed gas and a bladder pump control unit, and is ideally used with the MicroPurge basics models MP10 and MP15 controllers. The compressed gas is on the outside of the bladder and the pumped liquid is on the inside of the bladder, so there is no contact between the sample and the gas. 
Description:
The body twists off for quick change of the disposable polyethylene (PE) bladder. The bladder simply pushes on to provide a leak-tight seal for most applications without the use of clamps.
The cap of the pump twists off for full disassembly of the inlet and outlet check valves and the tubing connection components.
The pump uses 1/8" O.D. tubing for compressed gas supply and 1/4" O.D. tubing for the sample discharge. Tubing connections to the pump are made via push-in fittings built into the top of the pump.
The push-in connections provide excellent pull out strength when used with QED tubing, so that use of a support cable is not required. However a connection eye is provided on the top of the pump and tubing for use of a cable when preferred. The connection eye is threaded into the top plate of the pump and can easily be removed or reinstalled as desired
---