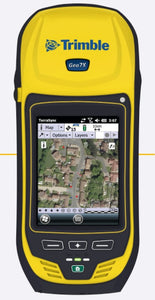 White Oak Environmental & Safety, LLC
Trimble Geo 7X Handheld GPS Rental
Regular price
$150.00
Unit price
per
Trimble Geo 7X Handheld GPS
The Trimble® Geo 7X handheld belongs to the Trimble GeoExplorer® series family of
READY FOR ANYTHING
The Trimble® Geo 7X handheld is from the Trimble GeoExplorer® series family of integrated, rugged, and high-accuracy GNSS handhelds. As a streamlined solution that enables faster and more productive data collection, the Geo 7X is ideal for organizations, such as utility companies, municipalities, and environmental agencies, requiring mobile data collection and asset management solutions.
Eliminate Physical Barriers to Field Success
When physically occupying a position is not possible due to dangerous conditions or rightof-way challenges, turn to Trimble Flightwave™ technology integrated in the Geo 7X. Utilizing the detachable Geo 7 rangefinder accessory, Flightwave workflows enable scale and location measurement of field assets at distances up to 120 m without a reflector. Flightwave measurements integrate directly into Trimble data collection software—simply point and shoot to get the position—even where there are obstacles such as traffic or private land access limitations.
Trimble Floodlight™ satellite shadow reduction technology keeps you working when heavy overhead cover, such as trees and buildings, obstruct GNSS satellite reception. Now you can work with fewer disruptions and obtain high quality data faster and at less cost.
Smart Data Collection, Smart Investment
By providing compatibility with existing and currently planned GNSS constellations, the Geo 7X delivers reliable GNSS tracking today and for years to come—ensuring your investment continues to provide value long into the future.
Achieve better accuracy in real-time without the reliance of a traditional reference stationbased infrastructure or VRS network through Trimble RTX™ correction service options available with the Trimble Geo 7X. Trimble RTX correction services leverage real-time data from an established tracking station network to compute and deliver high-accuracy positions to the GNSS handheld nearly anywhere on the globe. A range of Trimble RTX correction services offered with the Trimble Geo 7X provide internet-delivered, high-accuracy GNSS positioning wherever cellular communications are available so you can obtain the accuracy you need—from submeter to centimeter level.
Compatible with the breadth of Trimble GIS field and office software, the Geo 7X gives you flexible end-to-end data collection solutions and workflow choices: from the field-proven Trimble TerraSync™ and Positions™ software to the customizable data collection workflows of Trimble TerraFlex™ software.
Everything You Need to Work
With a powerful 1.0 GHz processor, 256 MB RAM, 4 GB of onboard storage, IP65 rating, and sunlight-optimized display, the Geo 7X is a high performance device designed to work hard in the environments that you do. The built-in 5 MP camera with enhanced zoom operation, and geo-tagging capability enables information about an asset, event, or site to be easily captured. And with the integrated dual-mode cellular modem, you can stay connected for continuous network and Internet access to realtime map data, web-based services, Trimble VRS™ and RTX corrections, and live update of field information.
Be truly productive with the Trimble Geo 7 series. No matter what gets in your way.
Key Features

► Easy and productive asset data capture with remote mapping and measurement
► Capture more positions and increased accuracy in tough GNSS environments
► Compatible with existing and planned GNSS constellations to maximize investment
► Flexible software options to collect, process, and manage data with simple, connected workflows 
PHYSICAL DIMENSIONS
Geo 7X handheld (H x W x D) 234 mm x 99 mm x 56 mm (9.2 in x 3.9 in x 2.2 in)
Geo 7X handheld with rangefinder 1080 g
GNSS, ORIENTATION, AND DISTANCE
GNSS sensor L1/L2 GNSS receiver and antenna
Chipset Trimble Maxwell™ 6 (up to 220 channels)
Systems GPS, GLONASS, Galileo, BeiDou, QZSS
SBAS WAAS, EGNOS, MSAS, GAGAN, SBAS+
Floodlight  Yes
Receiver protocols NMEA, TSIP2
Update rate 1 Hz
Time to first fix < 45 seconds (typically)
Real-time correction protocols RTCM2.x/RTCM3.x/CMR+/CMRx
Real-time Centimeter mode accuracy  Horizontal- 1 cm + 1 ppm HRMS, Vertical- 1.5 cm + 2 ppm VRMS
Postprocessed Centimeter mode accuracy Horizontal-1 cm + 1 ppm HRMS Vertical- .5 cm + 1 ppm VRMS
H-Star™ accuracy (real-time or postprocessed)10 cm + 1 ppm HRMS
Code DGNSS accuracy (real-time) 75 cm + 1 ppm HRMS
Code DGNSS accuracy (postprocessed) 50 cm + 1 ppm HRMS
SBAS accuracy <100 cm
CenterPoint® RTX (via cellular) Horizontal.-4 cm HRMS, Vertical- 10 cm VRMS
FieldPoint RTX™ (via cellular)10 cm HRMS
RangePoint™ RTX (via cellular) 30 cm HRMS
ViewPoint RTX™ (via cellular) 50 cm HRMS
Orientation sensors 3-axis gyro, magnetometer, accelerometer
Heading accuracy ±1.5°
Inclination accuracy ±0.5°
Roll accuracy ±0.5°
Distance sensor Laser rangefinder module
Communication protocols NMEA or Trimble proprietary
Passive range Up to 120 m
Reflective range Up to 200 m
Accuracy ±0.05 m
Range precision 0.01 m
NETWORK AND WIRELESS CONNECTIVITY
GSM/GPRS/EDGE 850 / 900 / 1800 / 1900 MHz
UMTS/HSPA+ 800 / 850 / 900 / 1900 / 2100 MHz
CDMA/EV-DO Rev. A 800 / 1900 MHz (Verizon certified)
Wi-Fi 802.11b/g
Bluetooth profiles BT 2.0 +EDR (SPP, OPP, FTP, PAN, A2DP, DUN, HID)
POWER AND BATTERY
Type Rechargeable, removable Li-Ion
Capacity 11.1V 2,500 mAH
Charge time < 4 hours (typical)
Real time DGNSS usage (via integrated 3G/3.5G) Up to 7 hours
Real time DGNSS usage (via Bluetooth) Up to 9.5 hours
Autonomous GNSS usage Up to 10.5 hours
Non-GNSS use Up to 24 hours
Standby Up to 50 days
SYSTEM CPU, MEMORY, AND CAMERA
CPU Texas Instruments DM3730 1 GHz + GPU
Memory 4 GB user memory + SD slot (up to 32 GB), 256 MB RAM
Camera 5 MP
DISPLAY AND TOUCH PANEL
Display 4.2" VGA (640 x 480) LED transflective
Touch panel Resistive touch panel with polarized light filter
Brightness 280 cd/m2
OS
Microsoft® Windows® Embedded Handheld version 6.5 Professional. English (U.S.), Chinese (Simplified), Chinese (Traditional), French, German, Italian, Japanese, Korean, Spanish, Portuguese (Brazil), Russian.
SYSTEM REQUIREMENTS
Syncing with a PC requires Windows 7; Windows Vista; or Windows XP Home or Professional with Service Pack 3 or later. Some field applications and services require mobile internet access.
ENVIRONMENTAL USE
Operating ambient temperature −4° to 140° F (−20° to 60° C)
Storage temperature −22° to 158° F (−30° to 70° C)
Relative humidity 95% non-condensing
Maximum operating altitude 29,000 ft (9,000 m)
Maximum storage altitude  40,000 ft (12,000 m)
Water/dust ingress IP65
Functional shock MIL-STD 810G Method 516.6 Procedure
Drop 4 ft (1.22 m)
Vibration MIL-STD 810 G Method 514.6 Procedure
SOFTWARE COMPATIBILITY
Please refer to the Product Compatibility list. (www.trimble.com/mappingGIS/productcompatibility)
---