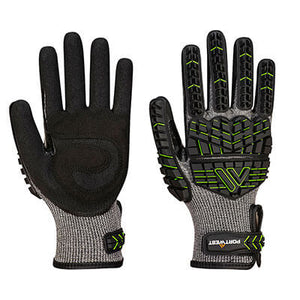 Portwest
VHR15 Nitrile Foam Impact Glove Black/Green (IN STOCK)
Regular price
$18.99
Sale price
$23.79
Unit price
per
Product information
Innovative TPR design makes for an impact glove with exceptional dexterity, comfort and protection. ANSI cut level A7 Double dipped nitrile foam coating for excellent grip in wet and dry conditions. Reinforced thumb crotch, exterior and interior padded palms for increased durability and comfort. Suitable for use with touchscreen devices. Designed specifically for the Oil and Gas industry.
Anti-Impact
Hand injury is one of the most common and frequent complaints in the workplace. This collection of gloves provides vital protection against impact to the hand from multiple hazards.
Hand Protection
A wide and increasing range of Hand Protection styles is available. In order to help cater to every need. Only the best materials and manufacturing methods are used in the production of Portwests' extensive range of Hand Protection products.
Features
● Maximum impact protection using TPR pod technology
● ANSI cut level A7
● Provides over 200°F contact heat protection
● Reinforced thumb crotch and padded palms
● Nitrile foam coating for excellent grip in wet and dry conditions
● Double dipped coating for durability
● 15-gauge liner for extra dexterity
● This glove can be used with most cell phone touchscreen devices
● Hook and loop strap for safe secure fit
● Retail tag which aids presentation for retail sales
● Breathable seamless liner
Standards
ANSI/ISEA 138-2019 Impact Level 2
ANSI/ISEA 105 - 2016 CUT Level (A7)
ANSI/ISEA 105 - 2016 ABRASION Level (6)
EN 388:2016 +A1:2018 (4X42FP)
EN 407:2020 (X1XXXX)
EN ISO 21420:2020 Dexterity 5
---